Dusk of the Internet, as we know it
Let's face it — Facebook assimilates journalism. Nowadays, social media performs such functions that were traditionally attributed to news agencies, mastering the role of news aggregator and content distributor. Facebook grew really successful in that thanks to its personalized news feed. Already 62% of users get their news directly from social media.
2016 will become a year of intense struggle for user's attention and the winners should be able to provide the time relevant and audience-oriented content.
If you want your project to be successful in future — be sure to create your brand page in social media.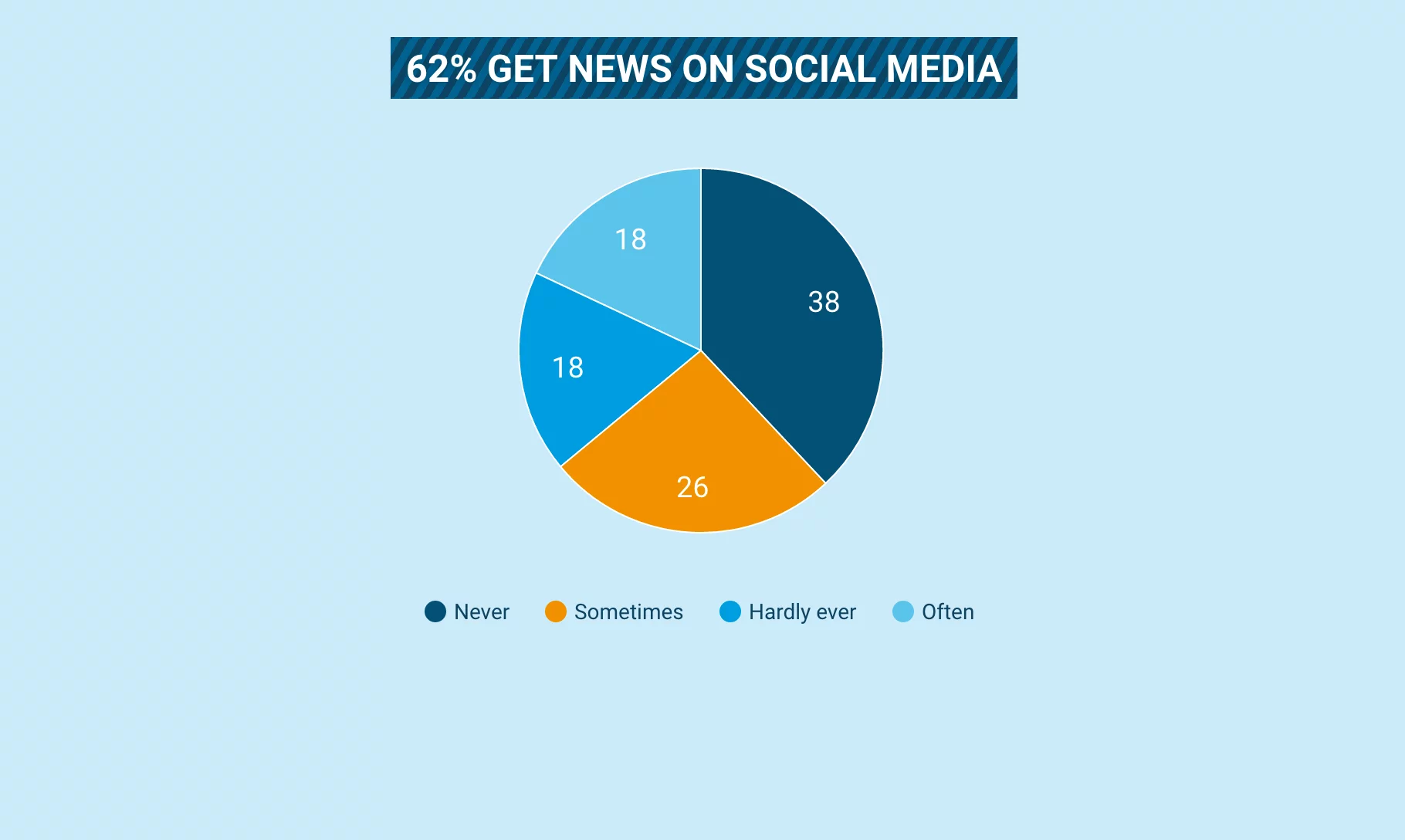 Keep in mind that it's not enough just to have editors and journalists. Make social marketing your strategic goal as well as your editors' agenda.
In this article you will get to know what metrics to analyze, what actions to take and how to increase traffic from social media by efforts of your editorial team.
What content should be posted?
The choice of material for Facebook publication is critical. The quality of material affects how many people in the audience will see it. A typical publication reaches around 6% of subscribers. The remaining 94% won't even see what you post.
Why is it so?
This is the way the company earns from advertising. The second reason is that Facebook tries to create a nice experience for users. Each user receives only a limited amount of content — not too much and not too little.
If there's content overload, then the chances are high to miss something important. And if there's not enough — then users just won't return. The amount of added content is growing each year, further intensifying competition.
What should you do?
A good idea is to research whether your readers are interested in the news topic you are going to post on the public page. Viral content is a readable one. Page views are far from being a comprehensive characteristic to evaluate audience interest in the article.
In contrast, scroll depth and time-on-page give the complete picture of readers' engagement. The number of shares from the website can be mentioned as well, being a sure sign that users are willing to share the material with friends.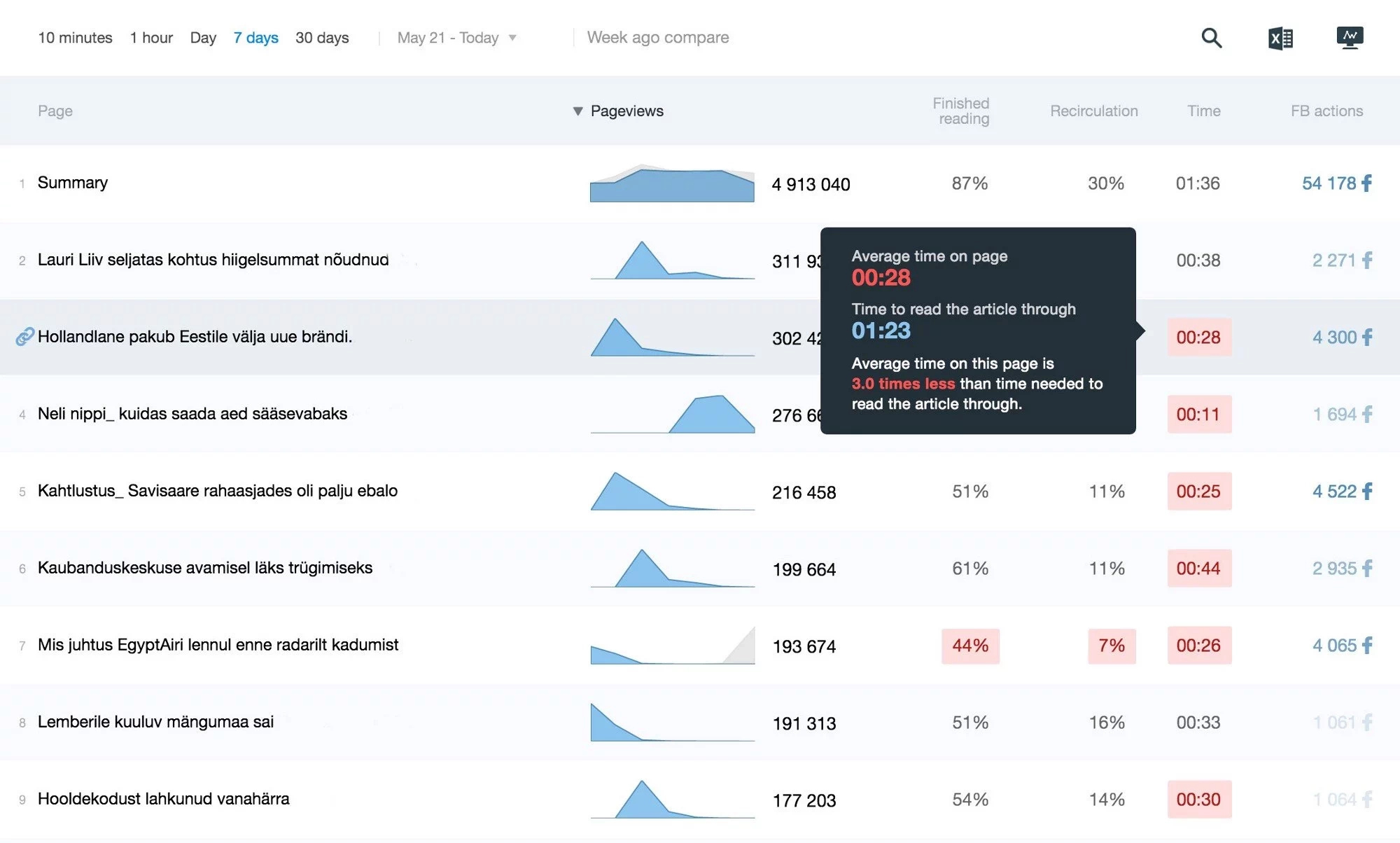 In the screenshot you can see read-through rates and average reading times. But the essential in this case is traffic sources data, as you have to determine social media audience engagement. To get this data, click on the desired publication and see Traffic Source section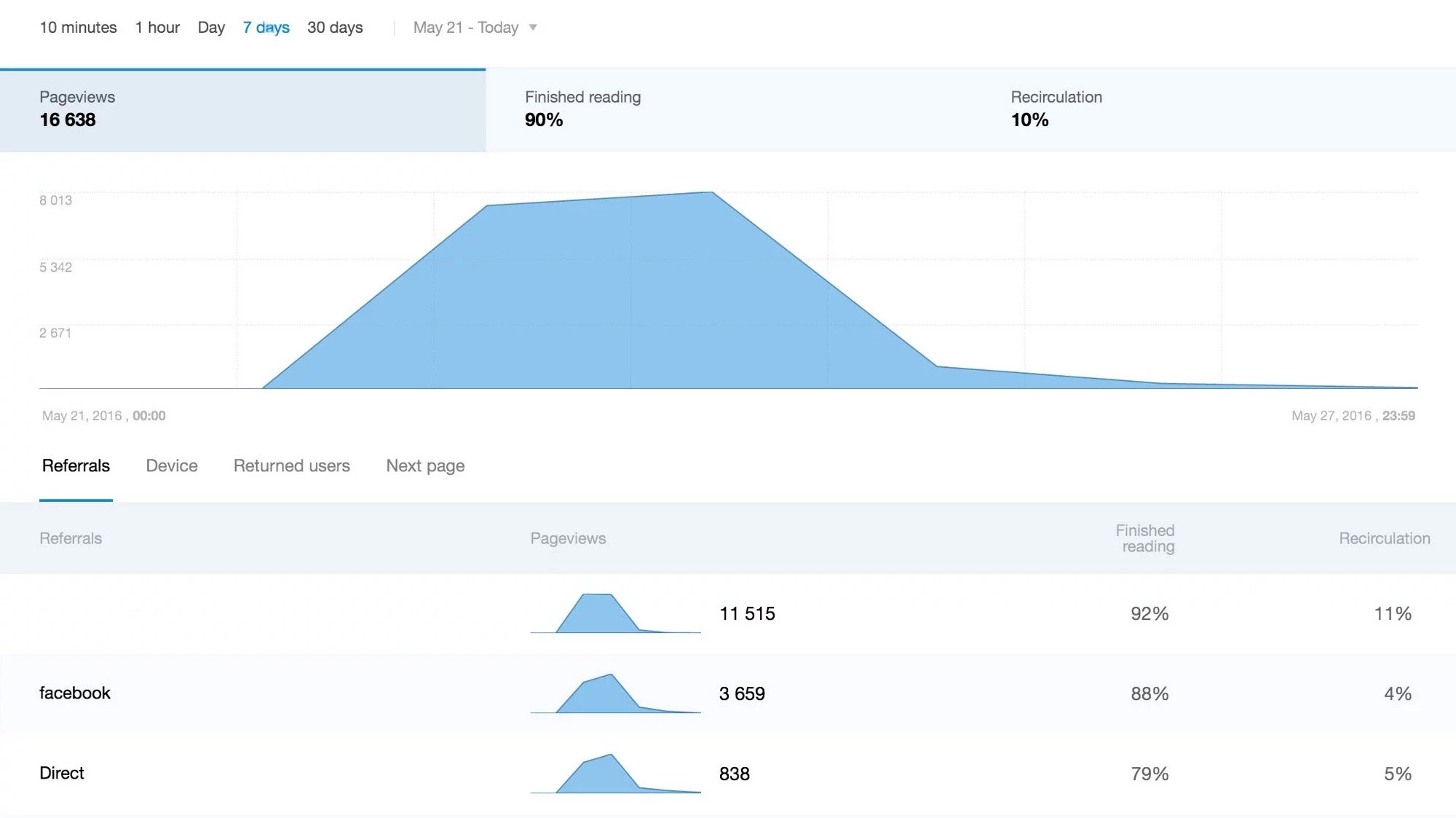 Engagement monitoring and improvement works towards increasing overall traffic, as well as the number of social actions. Engagement factors directly affect audience reach.
Reach is improved by the following:
Good page interaction history
If users press «like», comment or repost publications from your public page, it suggests that the audience likes your content. Facebook's goal is to assess how people interact with your content in time. If this does not happen often, then the probability to have your posts displayed is low. This method is not perfect, but Facebook considers it effective for evaluating content importance.
Preference for the content type that you post

Besides that users view particular pages and ignore the other, they may have a preference for certain types of publications. For example, a user prefers watching video content in Facebook. Videos that you post can be interesting in this case.
Interaction with other users, who have seen the publication

When you post a new publication, Facebook shows it to a small group of users (25-100 persons). Then, if the majority of them like the post, it gains high rating and is demonstrated to a wider audience. The publication having a small number of views from the start will never be available to a wider audience. Seeing that a certain post or topic receives a wide reach should be a signal to add more content of this kind and on the similar subject.
Reducing complaints and negative reviews

This factor is related to the previous one. When offered a post to view, the user might complain about the content or mark it as no longer desirable, and Facebook saves user preferences. If the publication receives a significant number of negative reviews, it will get a bad rating, and its reach will be very low.
Effective publication timing

It is almost as important as the post's content itself. Buzzsumo's study claims that the content published on Monday and Tuesday at 11 a.m. has the highest chance to become viral.
Content is consumed strikingly well at weekends — it makes sense to publish your materials on Mondays and Tuesdays, and then return them into the feed on weekends, thereby increasing virality.
Ноw to work with virality
Viral materials are worth posting to Facebook. Virality is the indicator, being the ratio of all actions (likes, comments, and reposts) to the amount of views for the article.
Not so many tools on the market are capable of notifying about the content gaining popularity on Facebook. Since your visitors can share the article with friends directly from the website and it can get a good reaction, meaning that it's time to post this material on your page or on the public page, helping your project to become more noticeable.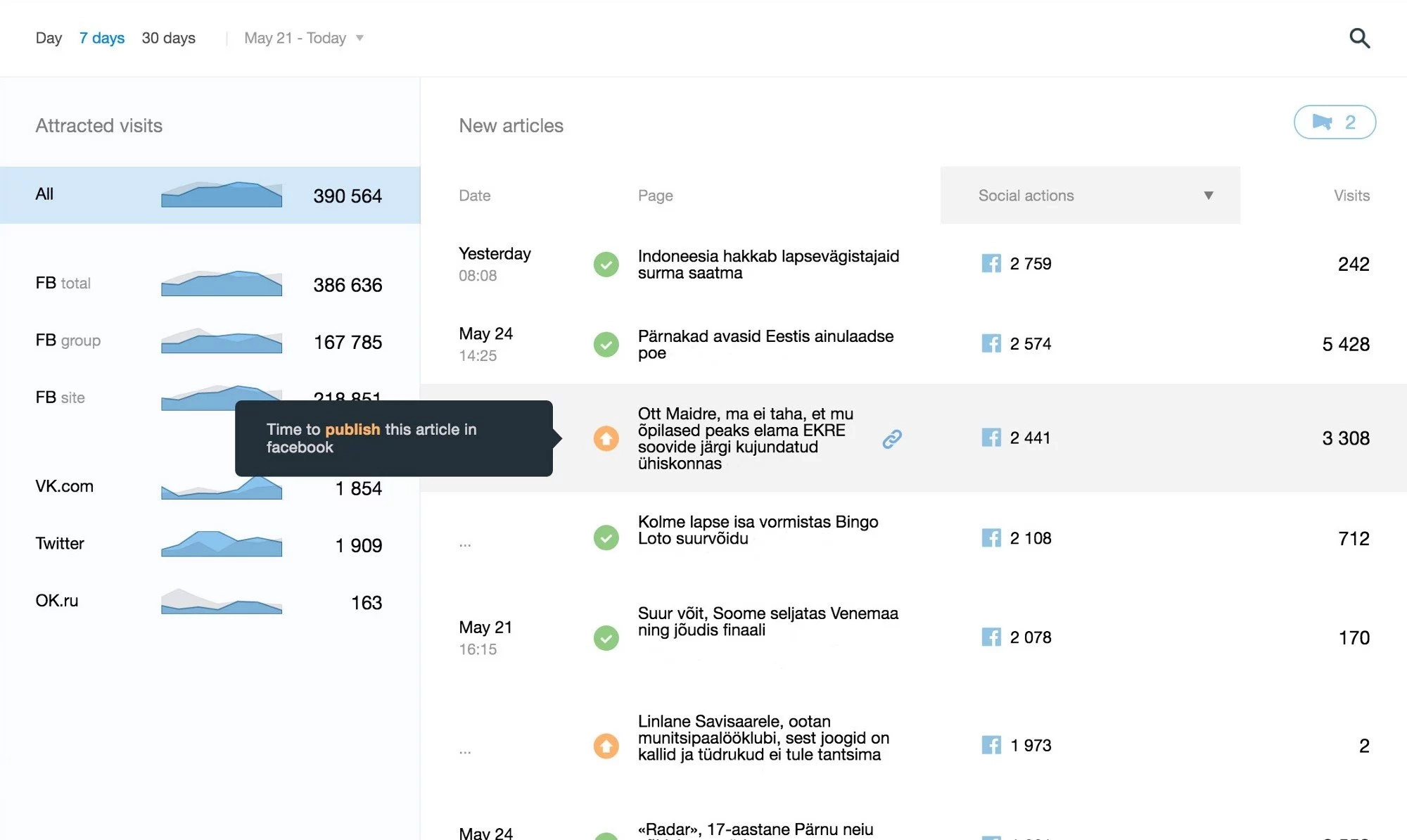 Simplify editor's task and use these handy tools to work with social media.
On the screenshot you can see a report that automatically monitors social media traffic and user actions. The system collects information on social media activities made by the users and proposes to publish this material in the group when the publication becomes interesting for the Facebook audience.
Case
The article you've published 3 years ago suddenly became viral on Facebook.
The editorial team quickly noticed such activity with the help of our service and posted the article on Facebook. As a result — the number of page views was increased by 679%.
Conclusion
Audience reach is one of the most important indicators of the Facebook content effectiveness. The higher it is — the more responses publications will receive, increasing visits, reposts and pushing the whole project forward.