Using «News on main page» report to choose the best articles for your homepage
INTRODUCTION
CTR (click-through rate) is a metric showing reader's interest in a certain publication.

Basically, it is the ratio of clicks on a news article link to the total number of page views.
The homepage is usually considered to be just another website page, but in reality, it is far otherwise.
The homepage is the primary traffic source from regular readers and is the place where your actions have the greatest effect!
Homepage CTR is the traffic generated by your loyal readers! The more carefully selected content is on your homepage, the more traffic you get.
The top two factors determining what articles should be on the homepage are CTR and page views.
But, surprisingly, today's 3 most widespread ways for news article selection are:
Editor's subjective feeling or experience
Publication's number of views
Automatic — by date of publication
Only 9% of editors analyze CTR after posting articles.
Only 3% analyze CTR before posting articles.
REMOVE OR LEAVE
Which publication should be posted on homepage?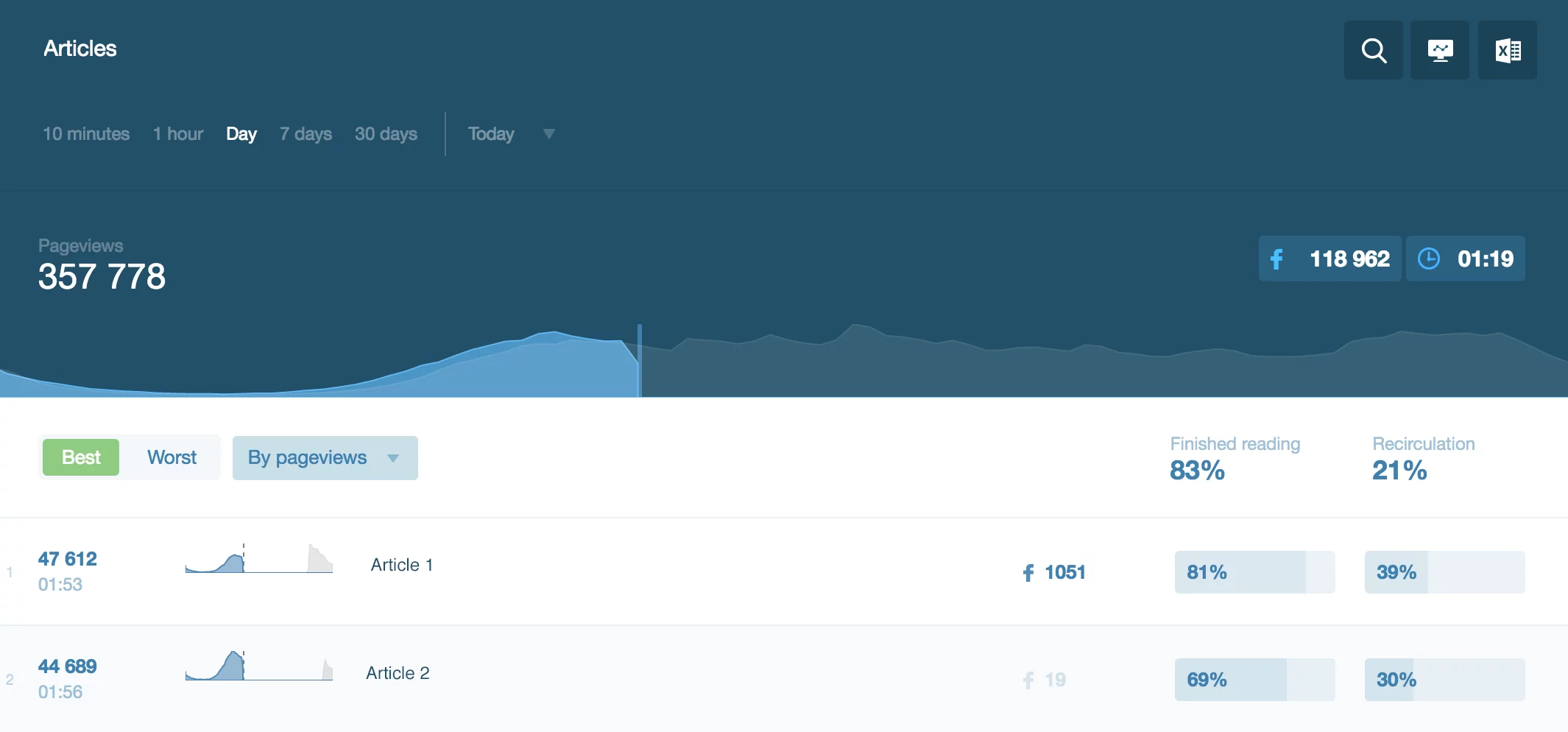 When deciding whether the article is best suited for your homepage, you should start with analyzing its data in Articles report.
Compared with the second article, the first one has more views. Should it be on the homepage?
In fact, none of them should.
If you are working with news and analyze publication performance per day — your are committing a suicide.
The struggle for traffic in the news business goes during the first few minutes. And after 2-3 hours news articles lose their relevance.
On the screenshot, you can see that the first publication has reached its popularity peak 2 hours ago. So by now it's too late to make a decision. At the same time, the second publication is still in demand, but the report data indicates its low quality.
That's why the decision to place the article on your homepage should be taken in the first 10 minutes after publication.
At the same time, there's always a possibility of a popular article having low CTR. Then it can be removed from the homepage without any consequences.
Which publication should remain on the homepage, and which should be removed?

Three articles were placed on the homepage at the same time.
Article 3 has the lowest CTR — it is not in demand and you can remove it in the first place. And what about the other two?
CTR of the first and second publications are almost equal.
Article 1 — 85 clicks
Article 2 — 74 clicks
Article 2 has generated 11 views less than the first. It's not a disaster. Can you possibly leave both articles? Or not?…

The extended report shows that Article 3 is better.
In the
«How to convert new visitors into readers?»
article we talked about Recirculation metric — the higher it is, the more readers proceed to other pages of your website. It expressively indicates the number of page views and website hit depth.
Article 2 has 28% recirculation, which is equal to 21 additionally generated views.
Similarly to Article 2 the total number of page views can be calculated for other articles: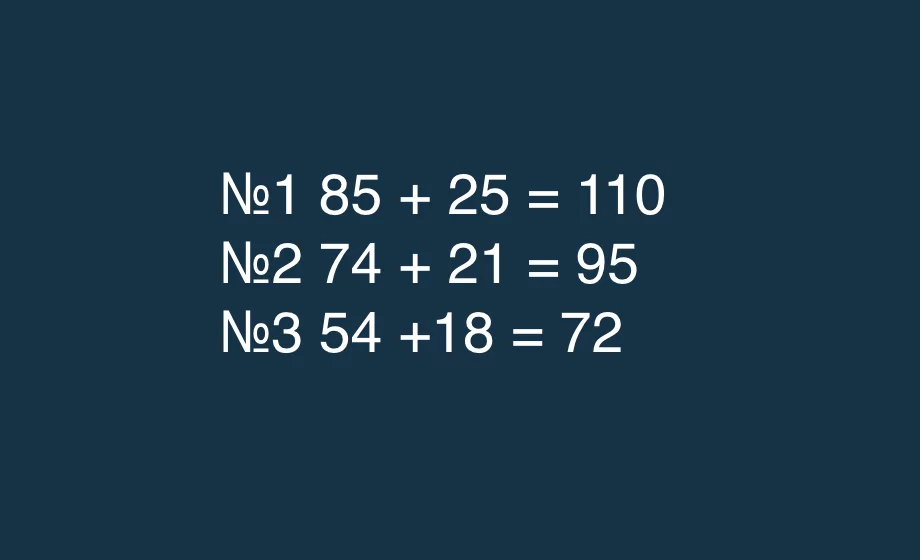 Article 3 has the lowest result — by 19 views lower than Article 2. Apparently, this article has an attractive headline and nice image, but not really interesting content.
We can:
— Just remove the article from homepage;
— Change sticky features' contents.
DYNAMICS
You can track article performance by analyzing CTR values. As an alternative, you can analyze CTR chart and monitor dynamics.
Analyzing CTR immediately after posting provides a lot of useful information and helps to respond to events quickly.

But continuous monitoring of CTR changes in the report is a costly activity time-wise.
Help comes with CTR or clicks chart.
Why is it important? Because CTR drops as the interest in the news article declines.
As soon as the news article is no more relevant or ceases to get new clicks — you should remove it from homepage and post some fresh news.
«Just plain obvious» — will say any experienced editor.

Charts indicate the opposite. Absolutely all projects have really huge delays with homepage news rotation!
Articles with popularity peak passed can hang on the homepage for more than an hour and occupy precious space — your traffic, your CTR!

The total CTR in the previous 3 screenshots was 4.5%. But with a timely rotation, this value will rise up to 6,3%. Growth will surpass 70%!
I DON'T LIKE DOING MATH
«All these figures somewhere in my account — it's too sophisticated…»
Of course, everyone is tempted to do their work with maximum comfort, have fun and get perfect results.
And this is why we developed a widget that allows you to see total CTR and CTR of each separate news article directly on your website.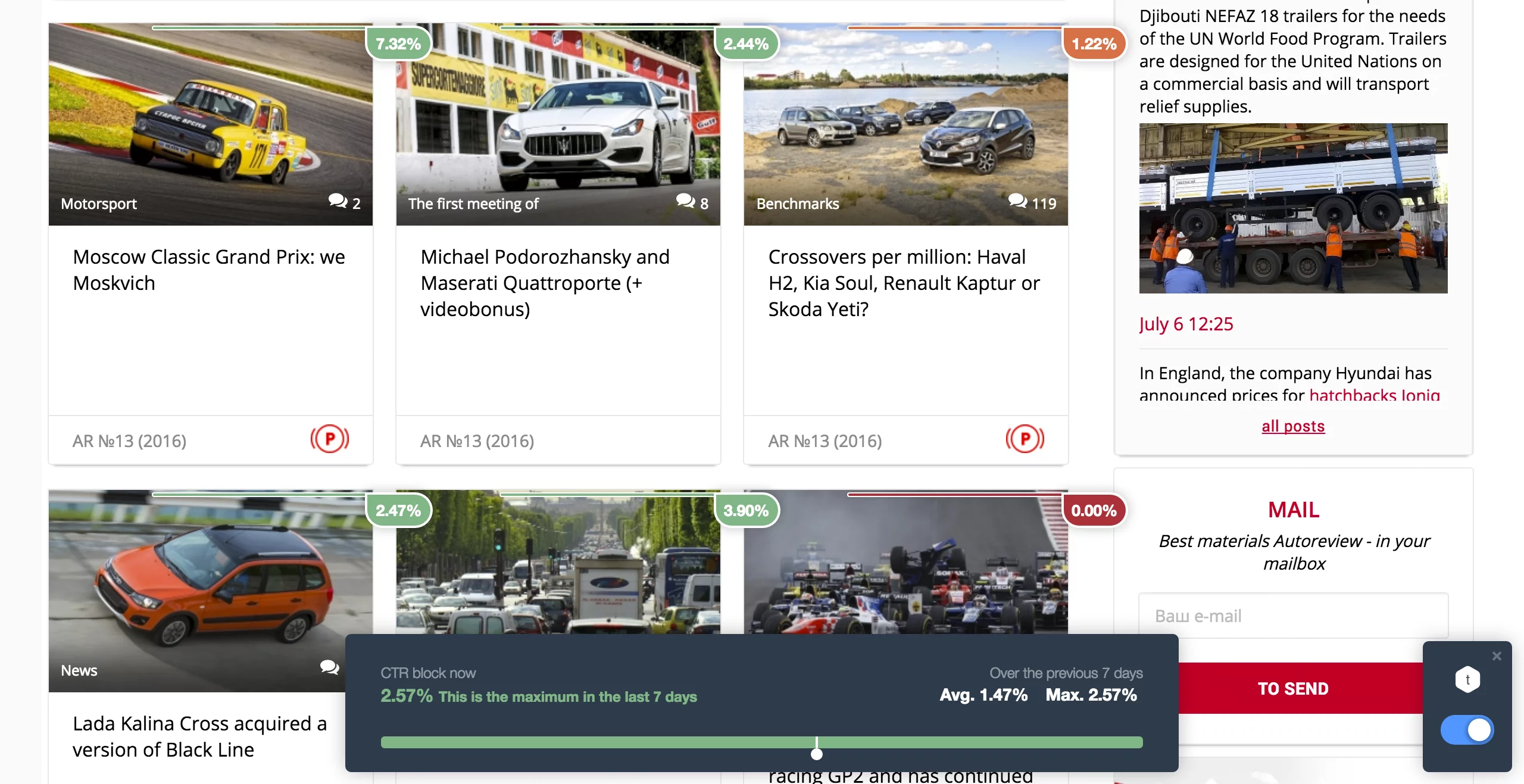 With a new article posted, now you do not need to switch to your account searching and analyzing the data — the key information is always before your eyes.
LET'S SUM IT UP
The article intended for your homepage should be:
As close as possible to the perfect publication, described in the article «How to convert new visitors into readers?»
Tracked by CTR as soon as it appears in «Latest News» section (if your website doesn't have such section — we recommended to create it)
After placing it on you homepage, use CTR chart to track the dynamics
As soon as the dynamics becomes negative and CTR drops below half the peak value — replace with a fresh article
HOW TO USE
Practical tips to increase CTR of homepage articles
Tip 1
Articles with high CTR, page views, finished readings and recirculation should be placed on the homepage in the first 10 minutes after publication.
Keep in mind that even if metric numbers are quite high, but popularity peak has already passed — it no longer makes sense to place the article on homepage.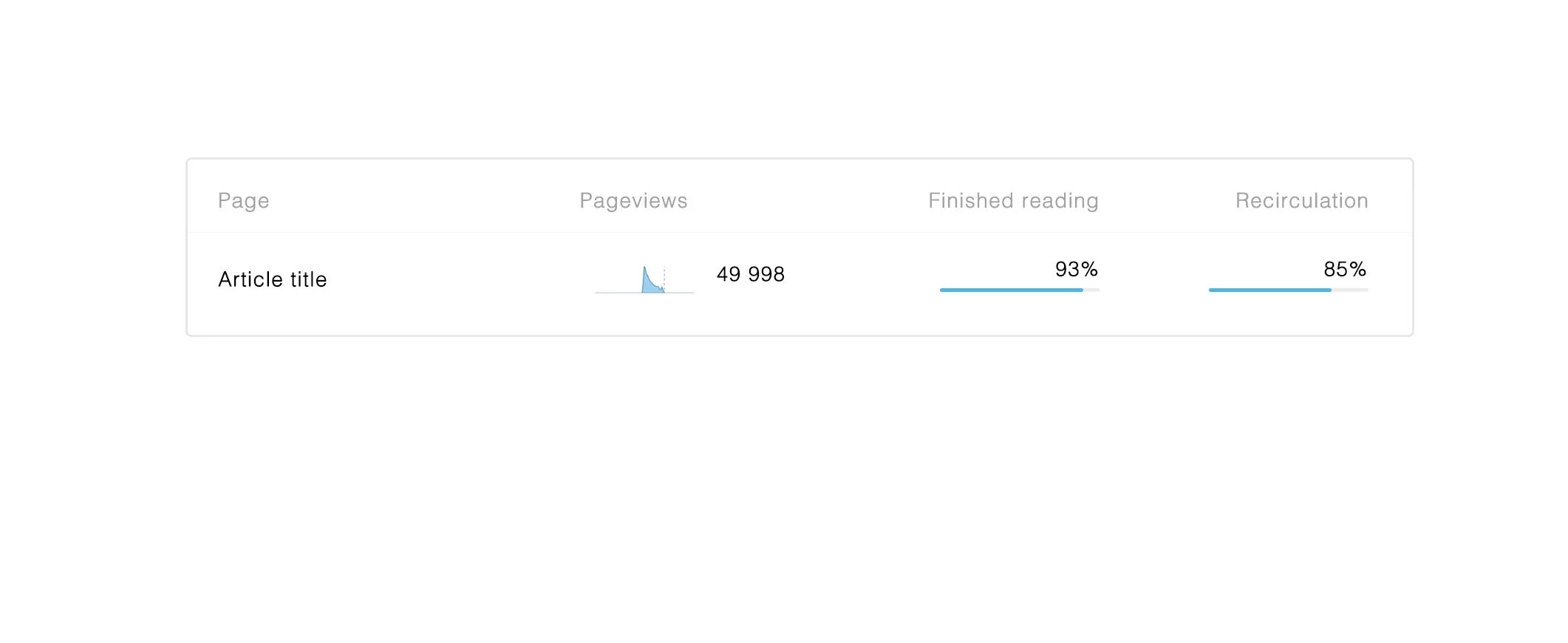 Tip 2
A lifetime of the most news articles is about 2 hours. That's why, if you miss the point, you lose lots of traffic.
As soon as you discover the article's potential, you should place it on the homepage and hold readers' interest with additional content on this subject later. As soon as interest in the article begins to decline — remove it from homepage and place additional content, in case it has a high demand.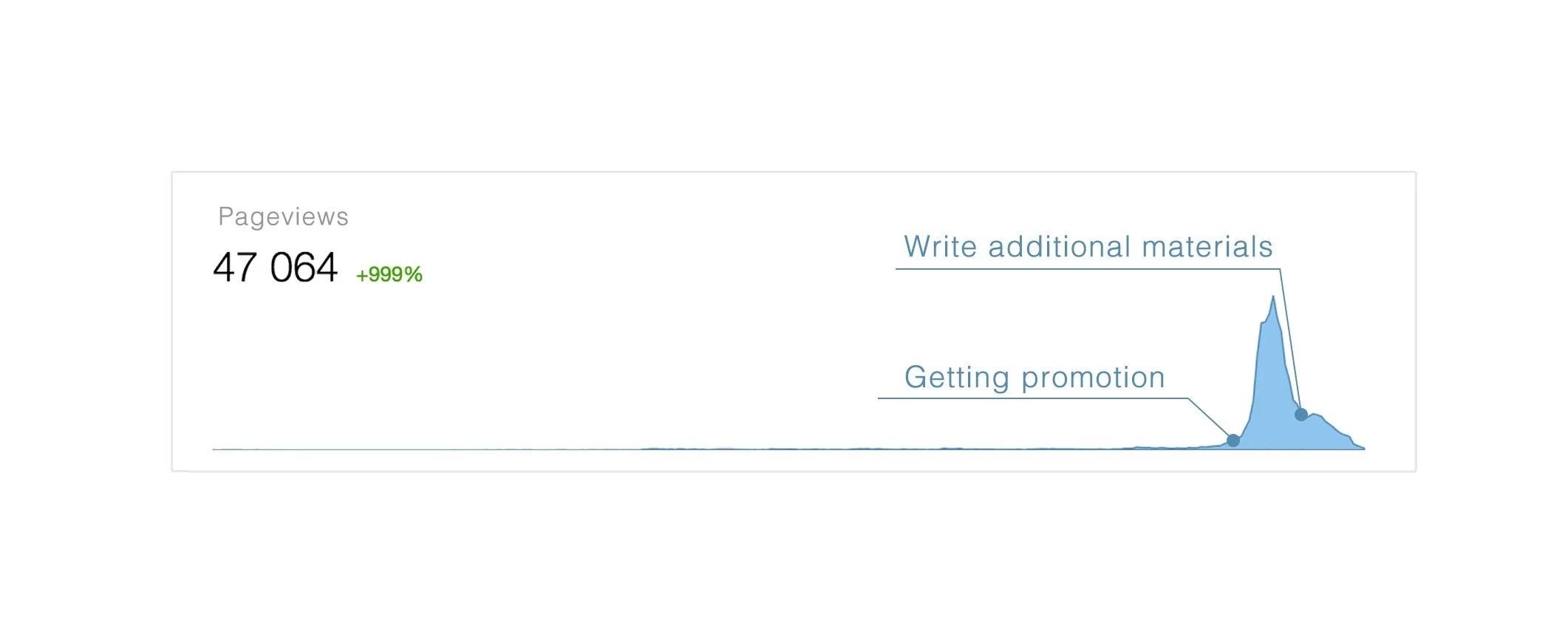 Tip 3
Edit the article immediately after its placement on the Home page, if the read-through rate and recirculation percentage are low. Replace images, change, cut and split text for gradual publication of content.
It is always easier for the reader to read a little bit and then the same amount later, than reading it whole at once.
Tip 4
Analyze article clicks dynamics. Once CTR drops below the value of a new publication — remove it from homepage.
By doing this you will always keep the interest high.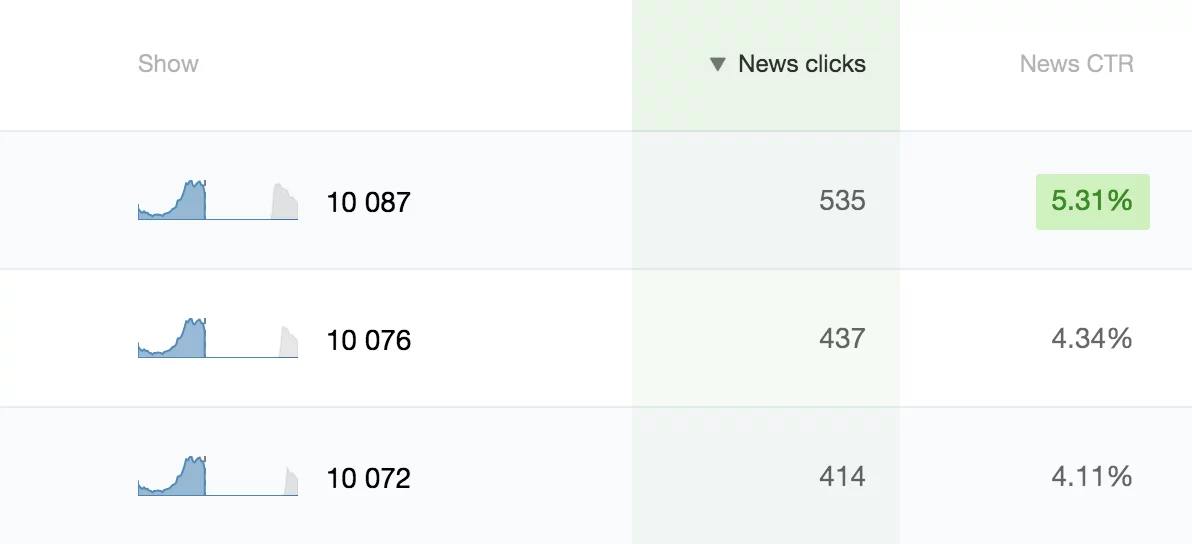 Tip 5
Use our widget to analyze CTR of Homepage news articles.
The widget will save time on analysis and guarantee that Home page contains articles with highest CTR only!